THE POLISH COMMISSION OF BALKAN CULTURE AND HISTORY
The Polish Commission of Balkan Culture and History was set up in August 2009 in Paris at the 10th Congress of Asociation of SouthEast European Studies / Association Internationale D'Etudes Du Sud-Est Europeen (A.I.E.S.E.E., www.aiesee.org).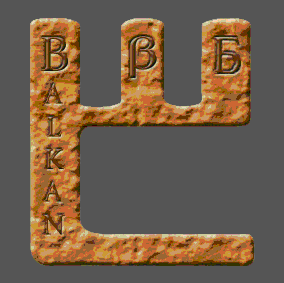 Polish Balkanology logo, author Katarzyna Tretyn-Zecevic. All rights reserved.

MEMBERS
Chair of the Commission – prof. dr hab. Jolanta Sujecka, Faculty of "Artes Liberales", University of Warsaw
Vice-chair of the Commission – dr hab. Jędrzej Paszkiewicz, Institute of History, Adam Mickiewicz University in Poznań
Vice-chair of the Commission – dr Katarzyna Taczyńska, Institute of West and South Slavonic Studies, University of Warsaw
Commission members:
prof. dr hab. Małgorzata Borowska, Faculty of "Artes Liberales", University of Warsaw
dr hab. Anna Cychnerska, Department for Balkan Studies, Nicolaus Copernicus University in Toruń
dr hab. Tomasz Cychnerski, Faculty of Modern Languages and Literatures, Adam Mickiewicz University in Poznań
prof. dr hab. Ilona Czamańska, Institute of History, Adam Mickiewicz University in Poznań
dr Agata Beata Domachowska, Department for Balkan Studies, Nicolaus Copernicus University in Toruń
dr Olimpia Dragouni, Faculty of "Artes Liberales", University of Warsaw/Humboldt Universität zu Berlin
dr Maciej Falski, Institute of West and South Slavonic Studies, University of Warsaw
dr Rigels Halili, Centre for East European Studies, University of Warsaw
dr Dominika Kaniecka,  Institute of Slavonic Studies, Jagiellonian University in Kraków
dr Artur Karasiński, Department for Balkan Studies, Nicolaus Copernicus University in Toruń
dr hab. Magdalena Koch, Institute of  Slavic Studies, Adam Mickiewicz University of Poznań
dr Przemysław Kordos, Faculty of "Artes Liberales", University of Warsaw
dr Mirella Korzeniewska-Wiszniewska, Institute of Political Studies and International Relations, Jagiellonian University in Kraków
dr Konrad Kuczara, Faculty of "Artes Liberales", University of Warsaw
mgr. Marzena Maciulewicz, Faculty of "Artes Liberales", University of Warsaw
mgr. Magdalena Matuszewska, Department of Hebrew Studies,  Faculty of Oriental Studies, University of Warsaw
dr Paweł Michalak, Institute of History, Adam Mickiewicz University in Poznań
dr hab. Jolanta Mindak-Zawadzka, Institute of West and South Slavonic Studies, University of Warsaw
dr Tomasz Rawski, Institute of Sociology, Faculty of Philosophy and Sociology, University of Warsaw
dr Agata Rogoś, Institute of Slavic Studies, Humboldt-University of Berlin
dr Wojciech Sajkowski, Institute of History, Adam Mickiewicz University in Poznań
prof. dr hab. Irena Sawicka, Institute of Slavic Studies, Polish Academy of Sciences in Warsaw
prof. dr hab. Irena Stawowy-Kawka, Institute of Political Studies and International Relations, Jagiellonian University in Kraków
dr Bogdan Trifunović, Faculty of "Artes Liberales," University of Warsaw
dr Aleksandra Twardowska, Department for Balkan Studies, Nicolaus Copernicus University in Toruń
dr Ewa Wróblewska-Trochimiuk, Institute of Slavic Studies, Polish Academy of Sciences in Warsaw